arsenal
[
ahr

-s

uh

-nl
,
ahrs

-n

uh
l
]
a
collection
or
supply
of
anything.
Every classy broad should have a treasure trove of items that she can turn to at a given moment when she is planning to host any type of get together. Let's be clear that I am neither hinting that you go buy all of these things at once nor assuming you already own them. Consider this simply a guide of things you can slowly collect over time. I promise they will last and you won't need to break the bank for any of them. That is, unless you want to. The classy broad approves any reason to save or shop.
Sounds simple, especially for those who recently have partaken in the ridiculous act of registering for a wedding (gift recipient: "Oh, my goodness! How did you know??  "gift giver: "You picked it out yourself!!) but this is an investment you will not regret. A table cloth, matching napkins, some napkin rings and placemats are items you can have on hand ready to go at a moment's notice. It's the best cheat ever. It takes about 10 minutes to set an entire table and once you have guests show up, they are instantly impressed. My go-to for affordable, classy looking table linens and accessories? Cost Plus World Market. 
I don't know what it is, but lighting candles always improves the mood. They add ambiance, make everyone look better and can make any space seem more comforting and welcoming. The best part is that you can choose anything that matches your style. Slowly collect a look that goes with your home - whether that is antique milkglass votives, elegant candlesticks or modern hurricanes, these are items you can buy for a small price and use again and again. For votives, I recommend having 10-20. Candlesticks, 2-6.
Milkglass Votives: Search for antiques on Etsy
also available for purchase at Velocity
Waterford Crystal Candlesticks, Macy's








Like votives,  flower vases add to the space and cheer up a room. Use mason jars, leftover cylinder vases from that flower delivery you received or my favorite tip, re-use votives once their candles burn out. Put a burned out, waxy votive in the freezer overnight. The remaining wax will freeze and you can quickly crack it out and Viola, you've got a gorgeous vase! And yes, I know flowers can be expensive but remember this: it's the thought. Inexpensive flowers from the corner store look just as charming as a florist-designed arrangement (unless they are carnations - Sorry!). You shouldn't need more than 2-4 large vases; smaller more affordable vases: 10-12.
Here is an example of using both an affordable vase and a votive as a vase.
Tall hobnail vase, Ikea. Fleur de lys votive, Luna Bazaar.                                  
Photo Courtesy of Joielala Photographie.
Frames 
Hosting Book Club? Frame the book cover art. Baby Shower? Baby Pics of the Parents to Be. Cocktail Party? Frame the Cocktail Menu. Frames are easy, cheap and with the ease of printing photos from most photo share sites via local stores it is SO easy to get the perfect image to frame. Recommended quantity: 4-6.

 Celebration Accessories
I grew up in a house where when you woke up on your Birthday, a sign was hanging and you ate from a big red plate that said "You are Special Today". We made fun of my mom for years and then as I matured, I realized how special those small accessories were. These are simple, buy-them-once-you'll-have-them-forever articles that you will end up using more than you realize.
The Famous Plate. They're still making it, so it's obviously a hit!
Available online at Macy's.
The Extra Mile
If you couldn't already tell, I am a details girl. These last items are certainly extras but once you add these to the arsenal, you find so many uses. 


Nametags are never necessary, but buy these bad boys and you'll find tons of reasons to leave notes around your party like labeling appetizers or buffet items or marking each guest's seat.

These handy holders are meant for menus but can be used for placecards, photos, invitiations, etc. These are small and don't take a lot of storage space. You can have 1-2 dozen of these on hand.
Wine Charms not only add to your overall look, but they serve a purpose (get your hands off my wine!). 
Buy the alphabet set (you may need two to cover all of your guests' initials) from Pottery Barn.....
...Or purchase these cheap tags and make your own with some nice cursive (or printing, if you didn't go to Catholic School).  Available on Etsy or at any office supply store. The office supply box contains 500. That should keep you set for years.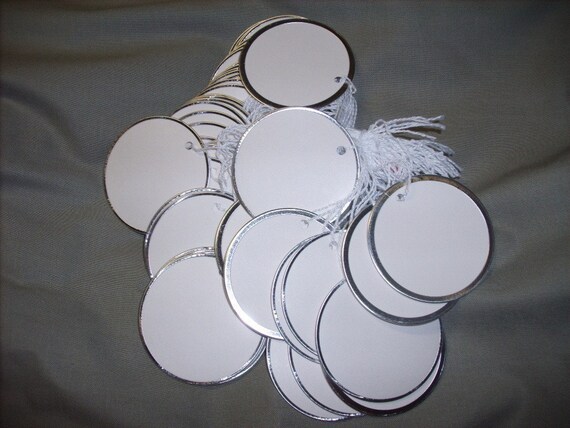 Twine. 
Don't ask. Just get it. 1-2 Rolls is PLENTY....
Plain Natural Twine. Bakers Twine. Anything. You will not run out of ways to use it. 
Tie it around a vase for a rustic look.


Use it in lieu of napkin rings.


Tie wine charm tags using twine.


Last but not least, be sure to store all or most of these items together. An arsenal is only effective when one can turn to it quickly and activate. The last thing you want to do is run around like a mad woman looking for each piece. Organization tips coming soon!