My list of favorite things is long but anyone who knows me is more than aware that monograms, initialed objects, pretty much anything with a letter on it sits right at the top of that list. There are fewer things more personal than initials, more classic than monograms. It can represent so many things - the initial of a loved one, a newly taken last name, an heirloom from a dear family member, a secret meaning between friends... you name it. Get it?
Such personal items become all the more valuable, sentimental but also non-returnable once you put a letter on it. So quick trigger pullers beware. Personalize it- and it's yours. Forever. But don't let this discourage you!
Go On, Put a Letter On It.
Bling.
I adore this necklace. It's classy and bold which is not always a combo easy to find. There are many stores that offer this style necklace, earrings or even cufflinks in a range of prices. I found mine on eBay.





 Totes.
The monogram tote bag designs and styles offered at Iomoi put LL Bean to shame. This site has so many great gift ideas for the mono lover. We've all been the recipient of a personalized tote at one point
in our lives,
or if you're me the number is too many to count. Don't get me wrong, classics are great but this one would for sure win the "Which-one-should-I-keep?" battle during a closet purge. Check. Mate.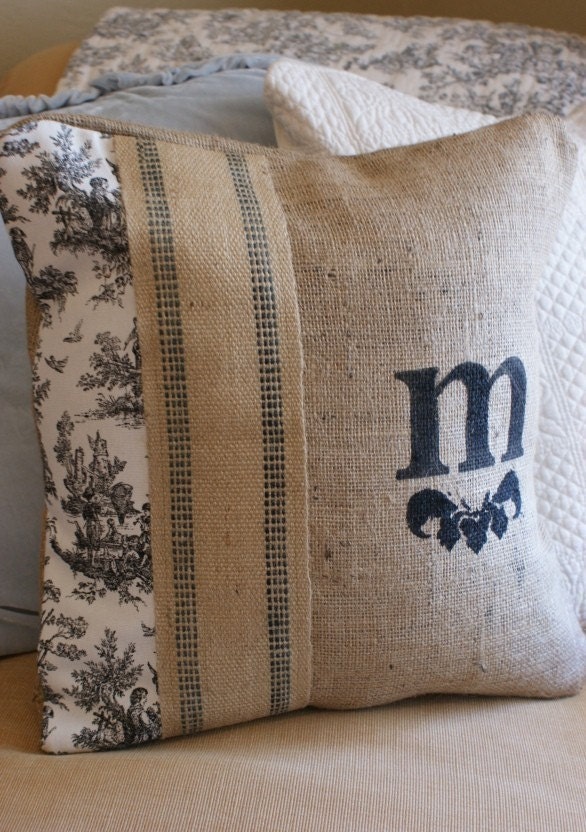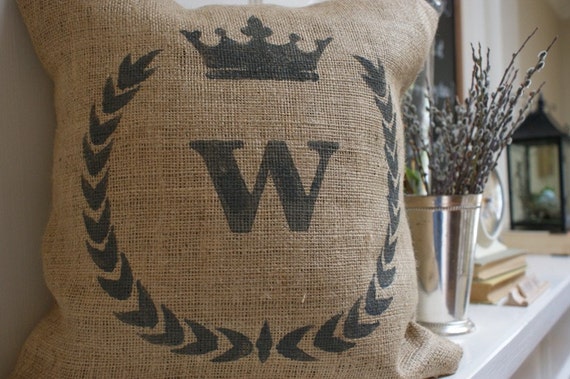 Just search "monogram pillows" on Etsy and your mind will explode. Two of my favorites here are from My Adobe Cottage. 
 Mono Bedding looks lovely as well. Go big with pillow shams and matching duvet or if you're looking for a more subtle look a throw pillow on its own will do the trick. Photo courtesy of House of Turquoise. If you haven't yet visited this blog, You're welcome.
Now Serving.
A cute hosting accessory with a monogram. Just Stop It. Custom design trays from, again Ioimoi.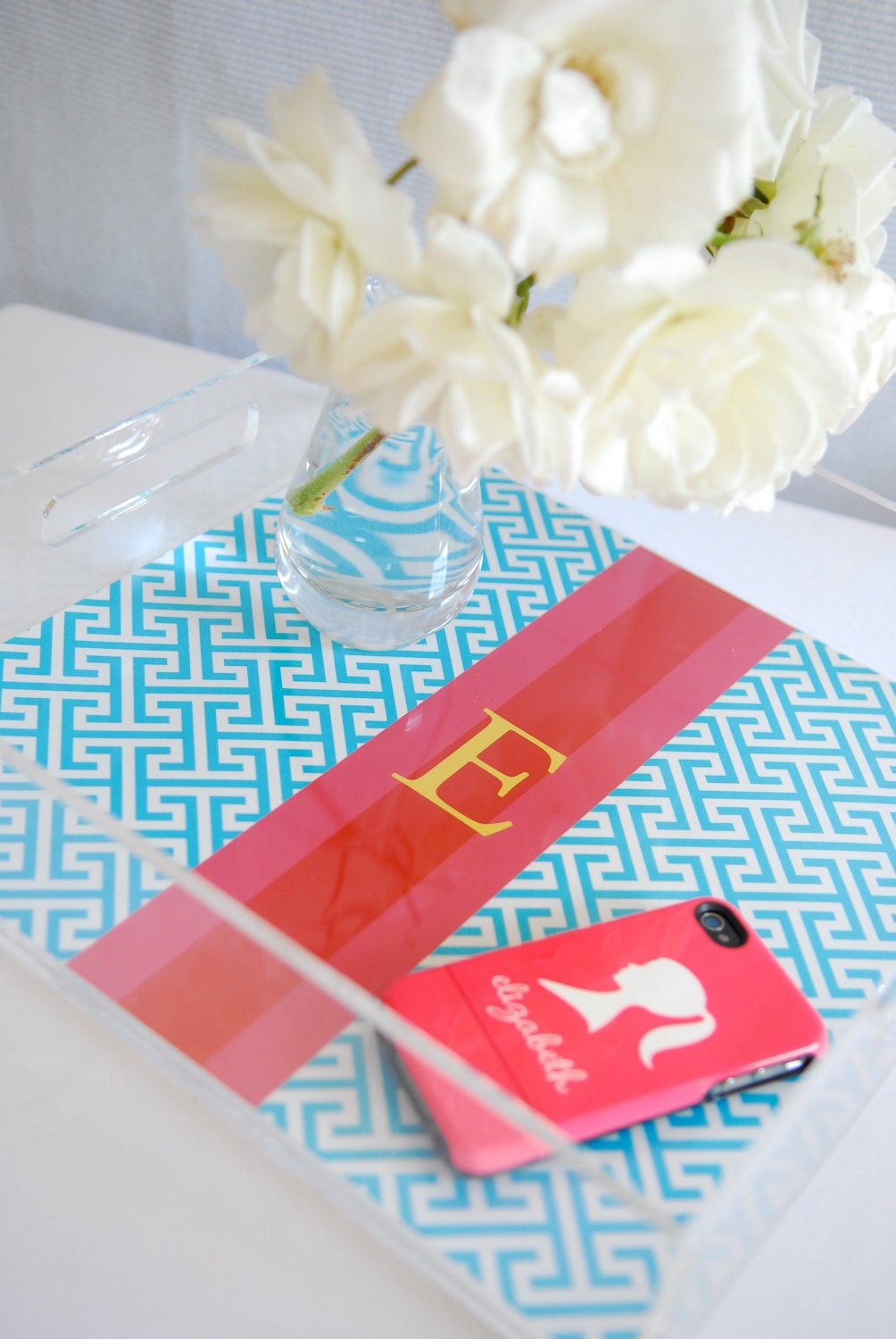 Just as cute but slightly more affordable options available from Etsy's Pretty Smitten.  
The Loo.
I love giving and receiving guest towels as gifts. They make a bathroom look instantly more styled. Feeling Crazy? Mix and match a few different versions together. Linen Hemstitch Applique Guest Towels from Pottery Barn.
Ring a Ding Ding.
For my 30th birthday I received a "b" ring from my best friend. The meaning was two-fold. B is not only the initial of my new family name, she told me it also stood for "bestie".  Not hard to understand why I adored this gift. The best part about these rings is that they're delicate on their own but can also be stacked with other initials or shapes. Remember - it can be any letter. It just needs meaning to be the most thoughtful gift. Ring from catbird.
Whose iPhone?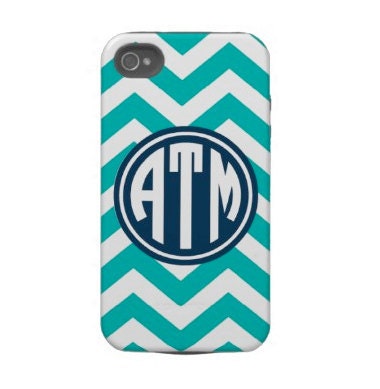 Yours! No question when you've got this case. Available at Etsy Store Karion Designs.
Techie Things.
Keep your laptop/ipad/ iphone/ipod, organized in these cases from West Elm
Stick It.
While it appears to be painted on, this wall monogram is a decal which I believe is french  for "big huge sticker". Looks great in a master bedroom, above a couch or in a cheery studio, the latter of which is mine pictured here (moment of silence, please). Decal purchased from Leen the Graphics Queen on Etsy. Not to worry, while it takes some patience to apply, your paint (and rental security deposit) will be safe.
Fill a Mug.
There's a reason these mugs have been consistently sold at Anthro for as long as I can remember. They make a wonderful, affordable gift. But that's not all! A friend of mine once used these as our placecards at a luncheon and we all got to take them home. Such a great favor! Or buy a few and spell something out. They also make a charming vase. Did I mention that they're only 6 bucks? Monogrammed Mug,
Anthropologie
.
Put a Letter on your Letter.



These return address stamps not only save you time, they add charm to anything you're mailing. Make your mark on the back of a plain envelope or go the extra mile and buy a circle label and stamp that and seal your envelope.  Expressionary.com has tons of stamp styles and ink pad colors to choose from. Roxanne Stamp from Three Designing Women is pictured here.
More Bling.
Nashelle Jewelry offers a unique build-your-own jewelry option on their site where you can choose metal type, alphabet or other personalized disc charms and even birthstones. These make a very special gift for anyone - the stone can mark a personal birthstone, special month (i.e. anniversary) or the birthstone of a baby for a new parent.
 A Home for All That Bling.
The etched letter on this jewelry box is so subtle and will add a little something extra to your dresser. Talk about a great gift, too!
Isabella Jewelry Box,
Pottery Barn
So there you have it. A lengthy list of how to personalize your life or help others do the same. 
One last thing. When it comes to monogramming, here are the Rules:
1. When creating a monogram for one person, the order should be
Left - First Initial
Middle - Last Initial
Right - Middle Initial
Mary Catherine Gallagher would be
M

G

C
2. When creating one for a couple, the order goes
Left - Female First Initial
Middle - Last Name
Right - Male First Initial
Mary and Patrick Gallagher would be MGP
Stay Classy!!