We live in a crafty, crafty world. DIY is everywhere these days and with Pinterest, Etsy, and countless creative bloggers out there, the ideas - along with hours of my life lost on the internet - are literally endless . I must admit that this Crafty Broad can get overwhelmed with possible projects.  I've pinned and bookmarked so many ideas that I have collapsed in exhaustion just thinking of where to begin!
What I find most challenging is the balance between wanting to make everything in sight, while still keeping a (somewhat) clutter free home. What can a broad make or create to spice up her home, or gift to another Crafty Broad that doesn't require copious amounts of space to store, you ask?

Coasters.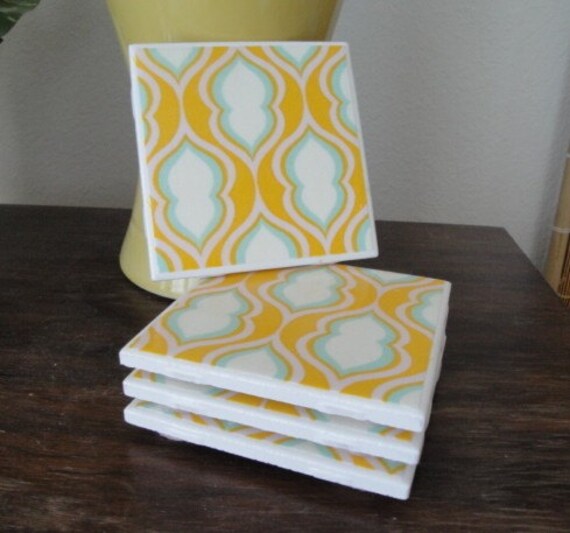 Photo Courtesy of Etsy Store Ahmelie.
Yes. Coasters. These little guys add personal touch to any space. Get some to match a themed event you're hosting, make some to match your living room decor, use them to place  plain vases atop for a creative centerpiece, or wrap up a pair you've made and pass on as a swoon-worthy hostess gift. Mama Bear would be so happy to know that after years of exclaiming "use a coaster!", I have decided to do more than just use one. These do more than just protect  that precious tabletop. 
Behold, the Broad's Collection of Coaster Projects and Ideas...



Yes, I know. Maps are super trendy right now. All the more reason to put them on a coaster! When it comes to trends, less is more. This idea was snagged from a blog I love, Pearls for Paper but the DIY tutorial comes from no other than the OG DIY-er, Martha.
DIY Tile Coasters... Love this idea. Especially since the tile idea is just the tip of the iceberg. Choose any decorative patterned paper and follow the DIY Steps from The Cottage Home blog.
For the Scrabble-Loving Broad. While making these might take a bit more time, they're so worth the above and beyond personal touch! Tutorial from Intimate Weddings.
Make coasters with your favorite pattern to match your home decor. Photo courtesy of Shanty 2 Chic.
Put your favorite images on a Coaster. While this example from Lee LaLa  shows the idea with portraits, I also love the idea of scenery photos from a favorite trip or even some vintage postcard images, like those sold by Cavallini & Co (below).
Gift Ideas:
A reason for a personal and thoughtful gift isn't always necessary, but I love the idea of this as a hostess gift or housewarming present. Throw a ribbon around the coasters and for an extra touch, add a bottle of wine and even glasses to make the offering complete!