It's true.There have been far too many Tuesdays that have come and gone with no new Muse. My deepest apologies, my broads. I am not one for excuses but let's just say a new little mutt has entered my life and takes a great deal of my energy. More to come on that little guy soon.
Well, time to bring out the big guns. It seems as though these days, we're all looking for the next great idea, new look or style. The desire to be the "first" or "trendsetting" is one we've all had. Why else would we spend countless hours pinning away ideas on Pinterest? Sometimes, you don't need to worry about what is new. Enter my newest muse:

Sigh.

I am currently reading Mrs. Kennedy and Me by Clint Hill. I know I am not breaking ground here. She has inspired style for decades. But, if it ain't broke, don't change a gosh-darn thing!

Oh, Jackie...How did someone embody so much class while making it seem so effortless? Did she come out of the womb in white elbow-length gloves?!? I don't think I'll ever fully master this but a broad can try. So, I give to you a short list of the classic basics and some items I think that if Mrs. O were a broad in the '10s, she would for sure be pinning on her own board.

Enjoy.
Over-sized Sunglasses
I am not talking trying-too-hard-to-be-hip shades (and yes, if you're a twin with the last name Olsen I am looking at you). I'm talking timeless, classic, large sunglasses. The kind that not only look great to others but instantly make you feel more polished, more put together, and relieved if you forgot the concealer this morning.

Pink
This Classy Broad wore a lot of pink. But yet, she never looked juvenile or ditsy. Jackie, we bow to you. I'd like to think if she were shopping now, she'd rock some pink threads like these.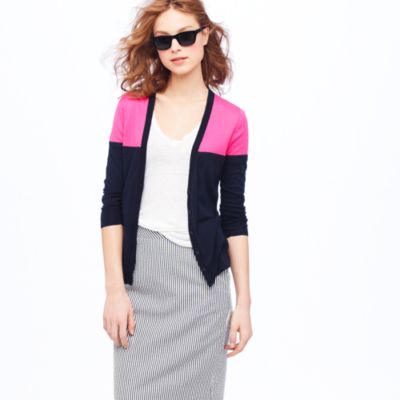 Featherweight Cotton Cardigan in Colorblock, J. Crew
Black Halo Colorblock Belted Sheath Dress, Nordstrom
Cape Cod Casual

Summering at the Compound in Hyannis Port was all part of the Kennedy lifestyle. Jackie even made vacations look stylish with her head scarves, crisp white collared shirts and preppy style.
That's it. I am rocking the head scarf this summer!

These kicks look like something she would for sure purchase before her next trip to the Cape.
PearlsA staple for any broad. The best thing is they don't have to look stuffy or boring. Buy a chunky version or just a very long strand and wrap it as many times as looks good with your neckline. And, no, they don't have to be real.
Digs
I simply love the way this book described Jackie's Georgetown home where the Kennedys lived prior to JFK's inauguration:
The room was elegantly decorated, but it had a feeling of warmth to it as well. Dark wood antiques were mixed with light-colored upholstered pieces and the furniture seemed as if it were arranged in such a way to invite guests to stay for long, lingering evenings by the fireplace. Built-in bookshelves were filled with a mixture of books and decorative ornaments that had a distinctly European feel.
Elegant yet warm? Lingering evenings by the fireplace? Yes please!! Yes, it's true we can't all have a perfectly decorated (read: EXPENSIVELY FURNISHED) home. But it doesn't have to be about price. I love this new book I recently purchased. It's about decorating for comfort and letting your personality shine through. 
The Perfectly Imperfect Home, Deborah Needleman
 And there you have it. Happy Tuesday, my Broads.