We all know color-blocking is in. But I can't get enough of all the items I am seeing out there that look - or sometimes in fact are - dipped in paint. Whether it's a new accessory or coming up with an eye-popping way to freshen up an old piece, I am all about this craze. As for DIY,  let's remember that anything you paint can always be painted again. So, come on and do the Dip!

Dip Your Kicks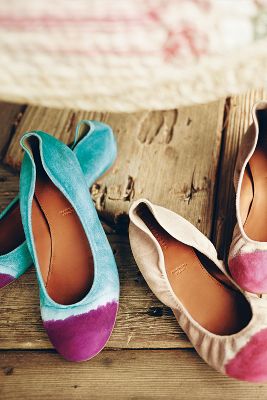 These shoes and the color combos they come in make me want to buy one for each day of the week. Even more interesting is the story behind how they're made. It's like Tie-Dye, but actually cute! Hand Painted Taika Flats, Anthropologie
Dip Your Bag
A clutch is a great way to subtly embrace a trend.

Big Buddha Clutch, Nordstrom





And then there are higher end bags that are worth the trend...
Oh, Kate. You've done it again.
Palm Groves Melinda Handbag, Kate Spade
Dip in the Kitch 
Want to spunk up your kitchen tools? Buy some paint and dip! Simple and easy way to brighten your space or tie in your color scheme...

 
Prefer Buy to DIY? Wind & Willow's Etsy Shop showcase tons of Dipped options. These bowls are just the beginning.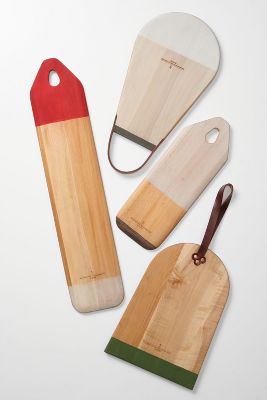 Can a broad have too many cheese boards?
Here are some fab finds from Anthro, but don't think you can't make your own by heading to your favorite inexpensive home and hardware store...


More DIY Dips
Take some Paint to your old pottery and instantly freshen up your outdoor space or window sill.
That Chair or side table that just seems dull? Dip the legs!
I have a pair of not-so-cute pine bar stools that are just asking for a Dippin'...




And of course, it wouldn't be right to share DIY ideas without including an idea from Miss Martha. Like these Dip-Dyed baskets? Find the How-To Here
And there you have it. Whether it's a new trendy piece, or being inspired to freshen up a part of your home, Color Dipping is a great option. Just remember: As with any trend, Less is More.
Stay Classy (and Crafty), My Broads.