i will blog more.
i will blog more.
i will blog more.
i will blog more.
i will blog more.
I know.  I have been the most delinquent blogging broad as of late. Between now and my denim jacket epiphany, my life has been a whirlwind of activity which has included me being in 8 different cities in the past 9 weeks. Classy Exhausted Broad doesn't even begin to describe it.
 
Well I am back and, like we say each year, can you believe how summer flew by? I was still on summer vacation when the first day of school for kiddos started! Well, my broads, I am in the mind that one never needs to stop back to school shopping just because they no longer actually go to school. So, here are some of my faves for fall, that I might add, scarily remind me of the old catholic school uniform days.

Don't worry. In a good, Classy Broad, kind of way.

Collar Me HappyPeter Pan style collars are everywhere this fall. What's important is to remember to pair them well so as to look stylish and not 5 years old.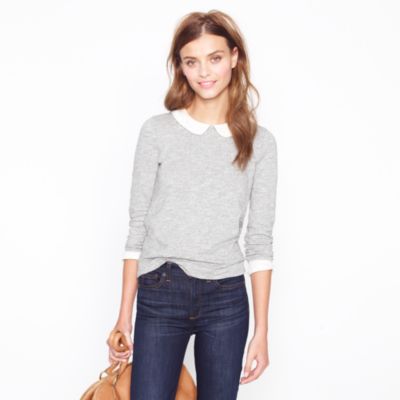 Peter Pan never looked so good. I am in love with this sweet, yet polished look.
Throw it on with jeans for a wekend or tuck into a pencil skirt for 9-5.
Peter Pan Collar Tee, J.Crew
Dress the look up for Night.
*Shopping Hint*: Search "Peter Pan" when looking online

Mary Jane Grows UpWhile you'll see Mary Jane inspired shoes a lot this Fall and Winter, it's the fun prints and colors that make them look "new".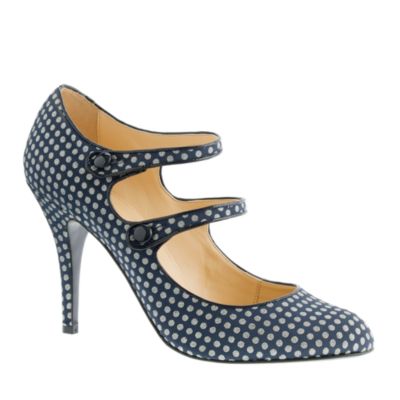 Is it Normal to Salivate over a Pair of Shoes?
J.Crew's Mona Line (Above and Below) is so Sexy Secretary it's not even funny.
So, these may fall more into the T-strap category but I am loving
any shoes with straps, buckles and clasps.
Blonsky Shoes by Nine West
Sock it to me!If my 12 year old self could hear me now. Yes. I am saying it. Knee socks are back! Cher and Dionne brought them back once before. Don't pretend you didn't rock them then.

I love how BEE of Atlantic Pacific pairs them above, layered over tights.
Makes the look more subtle.

Still not ready? Try it first with a skirt and boots with just afew inches peeking out at the top. Similar socks for both of these looks can be found HERE.
Preppy PantsAgain, maybe it's the Catholic School girl in me, but back to school shopping usually meant buying some type of plaid skirt.



Backpack for Big Girls   

G

one are the days of ugly nylon backpacks and messenger bags. Check out these handbags that are large enough to carry your laptop, can serve as a great carry-on while traveling, or can be your everyday go-to.

I didn't think a messenger bag could be so chic....
Arken Shoulder Bag, Pour La Victoire





Coach has come a long way from those Signature C's...




| | | | |
| --- | --- | --- | --- |
| Their Fall Legacy Line is To Die For. | | | |






So there you have it. My big girl's back to school look. It's good to be back, my Broads.