Fouta towel is a very special kind of Turkish bath towel woven with silk yarn. Fouta towels are unique products that have been preferred by a great society from Ottoman Sultans to the people of the modern age because of being silk, lightweight, extremely durable and its elegant image. The silk towel fouta is also very suitable for using as silk shawl, beach pareo, silk table linens and home decoration items.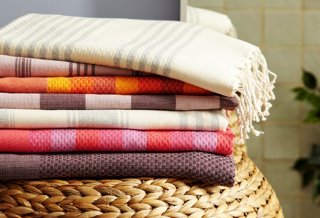 A while back, I stumbled upon Turkish Fouta towels while spending too many hours on Etsy. Stripes. Multipurpose. Excellent Quality. What's not to love? However for some reason I passed on buying any...
Then GP herself blogged about them on goop, listing them as a staple on "the summer kit". I thought about them longingly, saw the $200+ price tag and again, passed...
Well third time's the charm. One Kings Lane offered Foutas from Scents and Feel on their site last month and I struck while the iron was hot! I bought one and am obsessed.
So is my pup, Bernie.
 Beyond using as a cute barrier between Fido and your sofa (which as you can see, I copied immediately), here are some other fantastic ideas.
Photo Courtesy of Houzz


Picnic Blanket



These are just a few ideas. Fold one at the end of your bed or sofa arm as a statement throw. Know how to sew? Buy one or two towels and turn into a pillow cover. These come in a range of sizes and with the right kind of searching on retail sites or Etsy, a Broad can find these for a great price. Where to Buy? Any of the links above, or do a quick Etsy search, and see all the options pop up!

Until next time, 
TCB