It's one thing to be lucky that each and every March both the NCAA Tournament and St. Patrick's Day happen so close to each other. But having Good Old St. Pat's roll around on a year where Pantone has named Emerald the Color of the Year is just too much!

I've always loved Emerald Green. My best friend considers  Kelly Green her power color and so that alone makes me love anything close to it on the color bridge. But what really gets me about Emerald is the fact that it's a bright, rich color that knows no season. It's like Navy's spunky little sister. And trust me, there are few colors I love more than Navy. 

So since we are a mere three days away from pretending we're all Irish, I thought I'd share some of my favorite green wardrobe ideas. A classy broad must look cute while she drinks her Guinness, right?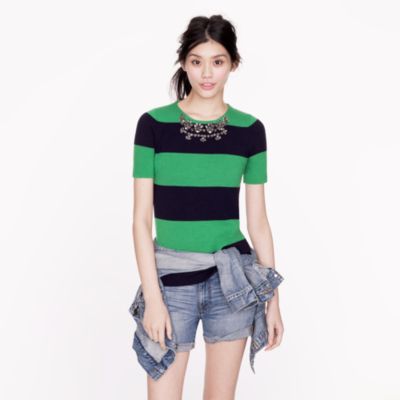 Crystal Necklace Sweater, J.Crew
Slim Cropped Pants, Gap
Roberta Chiarella Emerald Envy Earrings (say that 5 times), Max and Chloe
Shrunken Boyfriend Gingham Shirt, Gap
For someone braver than myself, Rachel Roy Silk Jumpsuit, Nordstrom 

Care to Pair? 
Here are some of the best complements to the Color of the Year:
Fuchsia, Magenta, Coral ~ really anything in the orange to pink spectrum
Navy ~ or, Old Faithful, as I like to call it
Deep Purple 
Black and White ~ on their own or together,  striped or otherwise
Gold 
Leopard ~ just remember, less IS more

So, time to peruse your closet or accessory collection for that emerald pop. You don't want to get pinched.