I was recently asked to help a dear friend's husband decorate for her surprise 30th birthday. Few things make me more excited than not only coming up with, but executing, ideas for a soiree. What I've learned from these types of projects is that it really is all the little things that make the big statement. So, here are The Classy Broad's list of little things that are sure to impress at your next gathering. The most important thing I should emphasize is that no one needs all of these things, and these ideas are in no way the only ones out there. It's the detail that makes the statement so if your budget is small, that's OK. Choose a couple of ideas and run with them.  Here we go...
Color Scheme
My friend's hubby already had pink and silver picked out, but expressed that he wanted to make sure it was not too childish-looking. Easy, I said. Make it fuchsia instead of pastel pink and add in some gold as well! 
Catchy Phrase
While not necessary, I almost always pick a catchy phrase to use and tie in on various items. Since "Cheers" is one of my favorite expressions and the guest of honor's name happens to be Chelsea, "Cheers to Chelsea" was just too easy to pass up. This message was used on several items, as you can see both above and below.
A Well Dressed Table
DIY Runner - While a quick perusal on Pinterest or Etsy can give you tons of ideas for table linens or runners, inexpensive paper can nearly do the same. I bought two rolls of the above paper, cut them in half lengthwise (hot dog, not hamburger) and hello, new runner! This trick works over a plain table cloth or even a bare table. If the roll isn't laying perfectly flat a little doublesided tape does the trick. Below are some shots of the table...
Menus and Place Cards - Again, such a little touch but it makes everything that much more personal. I bought A4 cardstock in matching Fuchsia and printed the dinner menu with the phrase and date. Place cards are another easy, inexpensive touch. I had Avery table cards on hand already and so printing myself was a piece of cake. Font Credit - Chevalier Becker Stripes and from Fonts101.com and Parisienne fontspace.com. 
Flowers make everything better. These were obtained bright and early the day of the event from the SF Flower Mart. I am now addicted to that place and could not have been happier with the amazing peonies, english garden roses and french tulips that we nabbed! If you've never gone to your city's flower mart before, try and go with an experienced vet like I did (Thanks, Jackie!). 
Signs
I've said this before, but it's not a party if there is no festive banner sign hanging. I will embrace this thought long after the bunting sign trend dies. No question. I've made many a sign of my own in the past but these signs, courtesy of the Michie May Etsy shop, have been haunting me since I favorited the shop a year ago. Finally, my chance to get one custom-made arrived!
Above, is the final version. With the seller's help, I opted for an ombre of 3 pinks, and silver tassels and letters spelling out "Happy 30th". I opted for this message thinking that it could be used again (and the cost is per letter - this broad isn't made of money!). 
Nothing makes a drink more enjoyable than some fun straws or stirrers. I made some garland stirrers, much like the gold ones I created back for my holiday dinner party.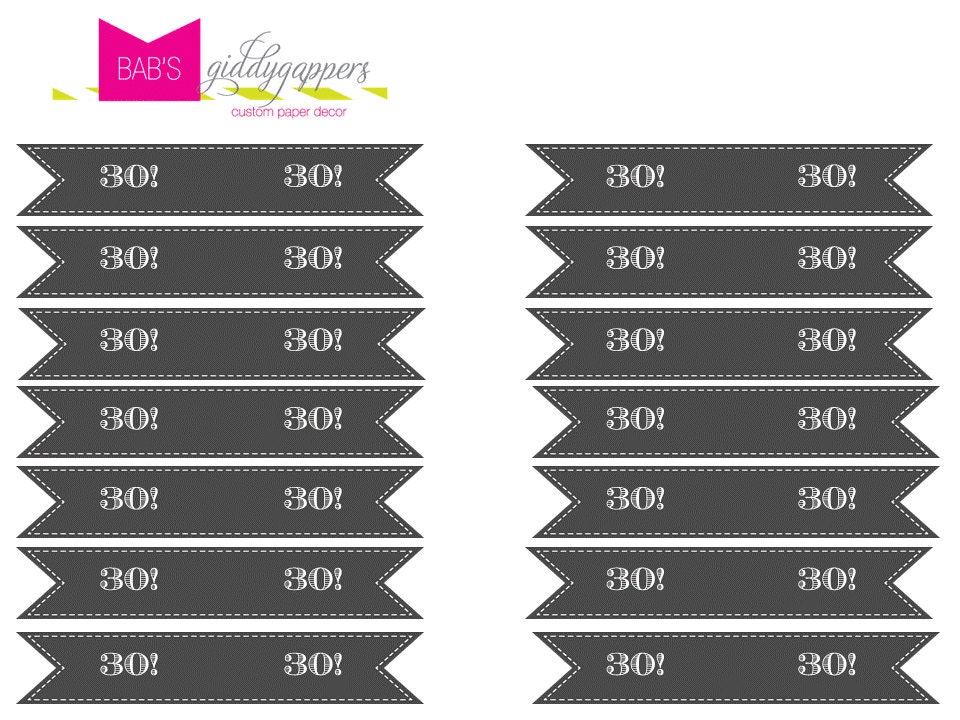 I then added some flair to the striped straws using flags from BBond0520's Etsy Shop. All I had to do was get download the template, print on label paper and cut! 
**One thing to note: Place the flags about 1-2 inches below the top of the straw. I didn't, thinking they should look like true flags, but people wanted to drink out of them too. 
Using the same font from the menus and place cards, I created messages on circle labels from Paper Source. Worried about making sure things line up well? As if I could love them more, Paper Source has downloadable templates for everything they sell. Sigh.
Another idea I stole from a fellow darling hostess, was personalized cocktail napkins. At $20 a pop for 100, it's a no-brainer! Want to be even more cost savvy? Choose a saying that can be used over again, like "Happy Birthday, Delaney". You should get a couple of years' worth that way. Napkins purchased on Amazon.
Wine Labels
When my mom turned 50, my aunt decorated every wine bottle with photos of my mom through the years. The idea was so thoughtful that it's always stuck with me. I did it for my husband's 30th and always recommend it to others who are planning parties. It's just so easy (and almost free!). Download template here, insert the photos and text you'd like, print on full page label paper and cut!
Balloons
Not necessary at all, but lots of balloons make everything more festive. I got 30 balloons in various colors and couldn't resist a huge "3" and "0" as well. 
Giant Number Balloons from Betallic on Amazon
Well, there you have it. A lot of little things that equal one great party. I can't wait to start on the next...
~TCB