I know. It's been a while. I am still alive. 
It's just that my blogging self took some time off due to having a quite busy non-blogging life which consisted of some great trips, wonderful summer memories and, of course, some parties thrown by Yours Truly. Here's a little show-and-tell of my favorite party by far...
Another one of my dear friends was expecting and had decided to be surprised and not find out the gender of her little bundle of joy. I don't know why but I just love when people do this. Now, some might think that means a much tougher party to throw- one which may entail avoiding all pink or blue. Well, I decided to do just the opposite and embrace the unknown by using Pink and Blue as my color scheme! Like Baby G's Shower a while back, we asked guests to bring one or two of their favorite childhood books. It's not only practical but also an easy gift to buy when the big question of "Boy or Girl?" is left unanswered. By the end of the day, this baby's library was impressive to say the least. I also made the luncheon potluck style which really lessened the hostess load and gave me more time to spruce up the place. So without further ado, f
east your eyes on all the deets...
As you know, the invitation sets the tone of the party to come. I loved the idea of a preppy navy and pink nautical look. The baby-to-be's papa was a collegiate swimmer so the whale made it even more perfect, in my theme-planning opinion.
Mad props to EThree Design Studio for helping with the sweetest custom invite.
 Navy Envelopes and Fuchsia  Labels from Paper Source (where else?)
Pink and Blue Decor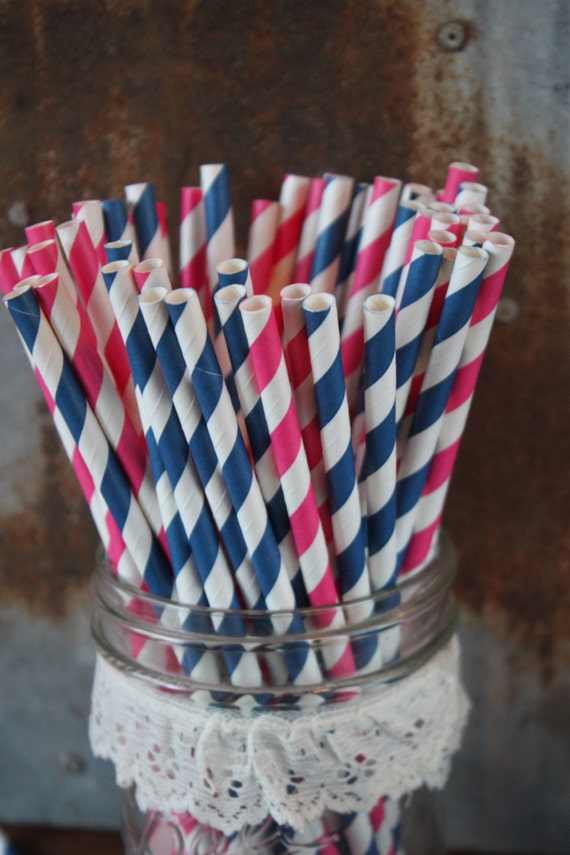 Custom Straw Flags,  also courtesy of Sweet Peach Paperie,
were printed on label paper and affixed to blue and pink straws.
A Coconut Watermelon Cocktail was the perfect drink for a summer party.
I made a sans-vodka version  for the Mocktail-drinkers.  
More circular labels were used on party cups, that read:
"Oh Baby!" and "Cheers to Baby Wheeler".
Pink Stripe and Navy Anchor Plates from Target added to the preppy nautical look.
Another lovely mama-to-be poses near the delicious potluck spread. 
Finishing Touches 
I feel any proper hostess should give the guest of honor thank you notes as a parting gift. I used these lovely polka-dot notecards from (again!) Paper Source and slapped a personalized message on a label for an extra touch. 
And since I couldn't stop the label madness, I adorned the same thing to pink and blue treat bags (from a local party supply store; 10 for only $1.99!) and sent guests home with some yummy swedish fish gummy candies. 
Photo Shoot
Once the other guests left, the patient guest of honor let me take about 1,000 shots of her with pink and blue balloons. To say I really got into it would be an understatement. 
If you're loving this dress as much as I, it's from Anthropologie. You're welcome. 
And guess, what??? It's a GIRL! 
Samantha Elliott Wheeler was born on August 17, 2013.
Sam is just perfect and a classy broad just like her mama.