Well, my broads, the giving season is officially in full swing and will continue for another couple of weeks. While I had fun sharing  ideas of gifting purchased items for those special broads in your life, I've been overwhelmed by the many homemade ideas I've seen (and received) during the season of giving.
So overwhelmed, in fact, that I had to share with you.

There is just something so sincere about a gift that the recipient knows took time and thought to create. Here are some of the wonderful gifts I have received, my own personal homemade gift of the year, and some more creative ideas to get your own DIY on. As you'll see in the ideas below, it's all about making things in bulk, packaging it with your own unique touch, while saving some major bucks along the way. 


This is my jam...

Nothing makes breaky better than good ol' toast and jam.  But why is it that when I am grocery shopping, I never get myself some? All the more reason to make a large batch and gift it to your loved ones. No doubt they will be grateful and put it to good use. My classy friend Jackie made the above organic raspberry jam and I literally "mmmed" out loud this morning when I had my first bite.  Recipe ideas are all over the interwebs. Pour that homemade goodness in a mason jar, slap on a cute label and call it a day! 
Speaking of labels, check out the oh-so-lovely (FREE!) options courtesy of Lia Griffith.
Granola is another great item to make in bulk and package for your nearest and dearest. My fellow broad Lindsey packaged her creation in cute French-style Hermetic Terrines, adorned with red and white candy striped packaging paper and sweet gift tags.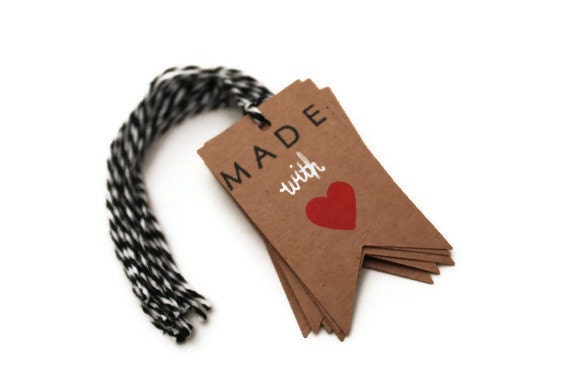 Any gift tag will do, but I personally love these from Craft Goblin.
This is where the DIY gets REAL. My friend Shanna not only sought out a fabric that she thought I would like, but then she sewed dinner napkins for me. Needless to say, this is one of the most thoughtful gifts I've ever received and will surely become a fixture at our dinner table for years to come. And how cute was her wrap job? Twine. Label Tag. Letter Stamps. Gold Ink. I just can't think of a more perfect gift all around. 
Now on to yours truly. A couple of weeks ago, I got to thinking that I really wanted to come up with a gift that I could give out to a handful of friends and family that would be affordable, easy to create, and have my own personal touch. After a quick search, I found this great list from Country Living - no doubt there are tons of ideas to inspire you here. The Rosemary Honey spoke to me as my mind went racing with fun ideas for packaging.  I had a vision of using honey dippers and my search online did not disappoint. Bottles bought from SKS Bottle and Honey Dippers from Save-On Crafts. These items arrived fast and came to under $1 per. Win!
Infusing the honey with fresh rosemary was easy, especially since we have a bush in our backyard. 
Recipe was simple and quick and can be found 
Here
.
After removing the rosemary that was steeped in the honey, 
I bottled the jars with my creation,
 added a fresh sprig of rosemary to each jar and sealed the lid with some red and white polka dot
 Washi Tape
.  
I can't fight my love for twine. I adorned each jar with a those cute little dippers used the same circle label template I followed for Chelsea's 30th party favors.
Final product with a "Bee Merry" label is shown above.
So now it's your turn... happy homemaking my broads!
~TCB